About us
Who is Discover Why I Love Egypt?
"Discover Why I Love Egypt" Tours is very excited to team with local Egyptian businesses throughout the beautiful country that is Egypt; because it is important for us to give our clients the very best experience possible.
"Discover Why I Love Egypt" is comprised of a team of trusted and passionate travel specialists. Founded by an experienced World Traveler and Adventurer, Roz Yemi Barbour. Yemi says, she fell so deeply in love with Egypt during her first visit to Sharm el Sheikh over ten years ago.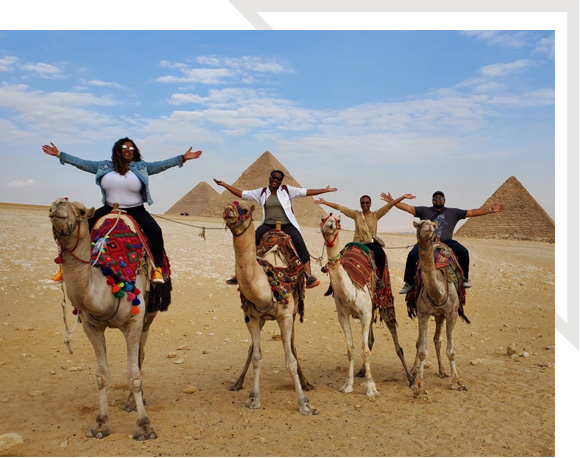 Amazing Itinerary
8 Unforgettable Days in Egypt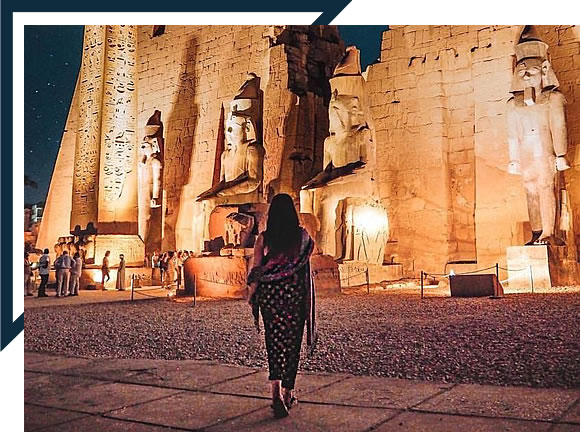 Slide 1
Arrive at Cairo Airport. Our "meet and assist" service will meet you outside of your arrival gate. We will take you through passport control area, obtain your visitor's visa, help you thru your luggage claim and customs. Then you will transfer to The Nile Ritz Carlton Hotel.
Slide2
World Famous Grand Egyptian Museum
Start your day with a delicious breakfast at the Ritz. We will visit the Grand Egyptian Museum. Lunch will be served at an authentic local restaurant. We will proceed to the Pyramids of Giza for tours and a camel ride across the sands of Giza. There will be a visit to the mighty Sphinx shrouded in legend and mystery. There will be visits to Gold & Silver Workshops where you can see beautiful jewelry and keepsakes being crafted. There will a "Welcome Dinner" for our group at a local authentic restaurant. (Breakfast, Lunch, Dinner)
Slide3
Breakfast boxes will be arranged prior to our transfer to Cairo Airport for flight to Luxor. We will arrive in Luxor and start our first tour visit to Karnak Temple, dedicated to Amon Ra. Then we will transfer to our Luxury Nile River Cruise on Sonesta Sun Goddess Cruise and get checked into our Nile River Boat Residence for the week. Lunch served on board. There will be a visit to the Papyrus Institute to learn about the first known paper in history. Afternoon tour of Luxor Temple built by Pharaoh Ramses the second. Dinner served onboard your cruise. Entertainment every night onboard the cruise. (Breakfast, Lunch, Dinner)
Slide4
Optional Hot Air Balloon Ride can be inserted here! This will need to be booked prior to leaving Cairo for Luxor so that it may be scheduled with our vendor partner. You will be flying over the ancient city of the Pharos over the West Bank of the Nile for $200 per person. It is Amazing!
We will cross to the West Bank of the Nile to the Valley of the Kings and visit the Colossi of Memnon, where you can see the Hatshepsut Temple in honor of the only female Pharaoh who dressed and ruled like a king. We will also visit the alabaster workshop to watch real craftsmen, skills passed down for generations. Lunch onboard the cruise. Afterwards we will begin the sail up the Nile. Dinner onboard the cruise. Entertainment every night onboard the cruise. (Breakfast, Lunch, Dinner)
Slide5
Edfu Temple/Temple of Horus/Kom Ombo Temple
Breakfast onboard the cruise. Edfu Temple visit via horse and carriage. Lunch will be served onboard while we sail to Kom Ombo. Dinner will be served onboard Cruise. Entertainment every night onboard the cruise. (Breakfast, Lunch, Dinner)
Slide6
Philae Temple/Temple of Isis/Nubian Village
Breakfast onboard cruise. In the morning visit the island of Philae to enjoy the Temple of Isis, the Goddess of Love and Passion in Ancient Egypt. There will be a visit to a Nubian Essence Aromatic Oil Shop. Lunch served onboard the cruise. After lunch we will enjoy the amazing ride by motorboat to the West Bank and explore the local Nubian families. We will also enjoy a traditional Egyptian Felucca boat ride on the Nile with a visit with the Mayor of Elephantine Island. Such a wonderful treat to learn about Nubian Culture. Dinner onboard the cruise. Entertainment every night onboard the cruise. (Breakfast, Lunch, Dinner)
Slide7
Travel Back to Cairo/ Tour of Islamic Cairo
Breakfast onboard the cruise. Checkout from Nile River Cruise and transfer to Aswan Airport. Lunch will be served at local authentic restaurant. Followed by a visit to Islamic Cairo; the city that is over 1000 years old Then walk in El Muizz Street which as the greatest concentration of medieval architectural treasures in the Islamic World. You will explore the winding alleyways of the famous Khan El Khalili Market. We will then transfer to the Le Meridien Airport Hotel. (Breakfast, Lunch)
Slide8
Saqqara/Dahshur Pyramids/Egyptian Cotton Rug School
Breakfast at hotel. Drive to Saqqara , the necropolis of Memphis. Home of the step pyramid, the first limestone structure ever built. Explore its 4350 years old colored tombs. Go inside of a pyramid. There will be a visit to an Egyptian Cotton Rug School where you will be amazed by the skill and craftsmanship of these students that are working to keep the traditions and customs alive and well for generations to come while producing breathtaking carpets. Lunch will be served at an authentic local restaurant. Our Egyptologist will escort you to one of the most important Pyramids in Egypt, yet still off the beaten-path to many visitors. It is a field of Royal Tombs. Many pyramids found here, including the famous Bent Pyramid. Transfer back to the hotel & Overnight. (Breakfast, Lunch)
Slide9
Breakfast in hotel or a prepared box breakfast option if you have an early flight. We chose the Le Meridien Airport Hotel because you can literally walk from the hotel to your airline as it is attached to the Cairo Airport. It is our plan to have you travel back home with your heart filled with memories of the sights, sounds and voices of Egypt to carry with you.

Always feel free to come back to Egypt with Discover Why I Love Egypt on some of our other tour options around the country. Contact us for more information and please refer us to your friends and family!

Shukran (Thank you),
Yemi Barbour
Fun Curator for Discover Why I Love Egypt
EXPERIENCES
Discover Why I Love Egypt Gallery