Egypt welcomes you with its mighty Nile and magnificent monuments. It offers beguiling deserts, a lush delta with its long past and warm, welcoming people. The cradle of ancient civilization- Egypt is marvelous! From invigorating deserts to Souks buzzing with life, the intriguing Mummies, to the enchanting Nile; Egypt has always been the nexus for wanderers. Get an opportunity to watch history come alive, when you visit the Great Sphinx and the Pyramids of Giza – one of the Seven Wonders of the World and the other stunning colossal monuments of ancient Egypt. Visiting Egypt with us during our tour dates are ideal for enjoying stunning views, enchanting Nile River Cruises and the pleasant temperatures. A "Discover Why I Love Egypt" trip is all about having fun and rejuvenation, being energetic and enjoying both the "me" and the "we" time. It's something every person MUST do for themselves in this lifetime. We can hardly wait to share the magic with you!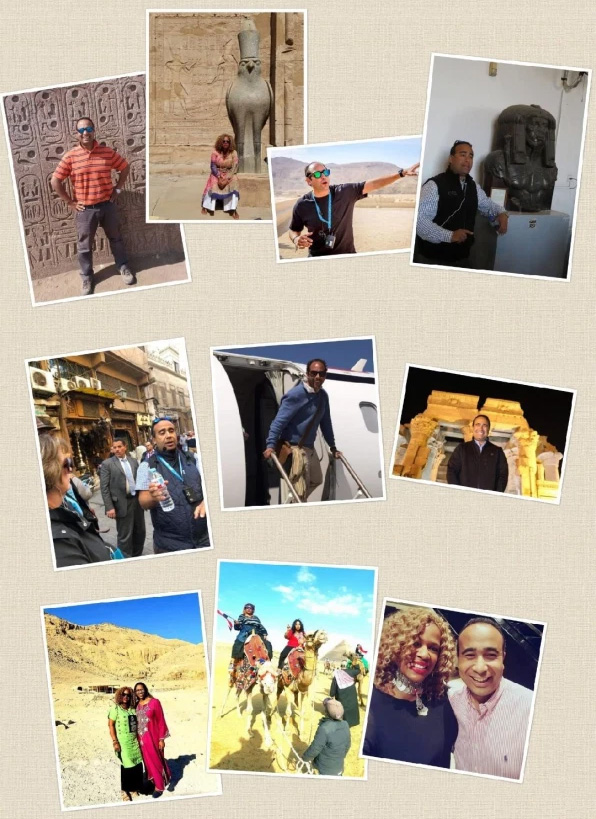 Discover Why I Love Egypt is focused entirely on clients who are looking for affordable luxury journeys around Egypt. Our Tours for the Soul are curated around our clients interests and travel schedules, they are one-of-a-kind experiences that are as unique as our clientele. Our commitment to our clients and the expertise, knowledge, and personal relationships of our Egyptologist; allow us to design journeys that are adventurous and sophisticated, or the perfect blend of both. Whichever you prefer, you can be certain that your trip will be filled with exclusive opportunities that only we offer.
Whether you know exactly where you want to go or need some inspiration, Discover Why I Love Egypt is here to guide you and to create a journey that will surpass your expectations.
With experience in the affordable luxury travel industry, we have a wealth of knowledge to rely on, as well as constantly innovating and providing our clients with new and exciting itineraries that blend academic expertise, on-the-ground spontaneity, and the perfect place to relax at the end of the day.
We are the team that does it all, from start to finish. We make "your" journey, "our" journey, taking you through different worlds, each as exciting and unforgettable as the one before.
Camel rides by the Pyramids & cruises alongside ancient temples? We've got those. Sunrise at the Sphinx & Sunset by the Citadel? That's one of our classic days out in Cairo. Desert excursions & stargazing in the mountains? Get ready for an unforgettable journey!
Whether you're a luxury-oriented tourist or a hardened explorer, we have journeys to keep you excited!
​We also partner with Five Star Hotels like Four Seasons Nile or Kempinski Nile: as well as luxury Nile cruise lines like Mayfair Cruises. All with exceptional expertise so that you know you're in good hands with our "Discover Why I Love Egypt" Tours. Our trained and qualified staff are excited to share this unforgettable experience with you! Won't you join us?
What is included in the tour?
Meet-and-assist service at airport upon arrival.
2 nights at the Nile Ritz Carlton hotel – City View Room Inc. taxes & breakfast.
4 nights onboard May Mayfair Cruise or similar on full board basis.
2 Nights at the Le Meridien Airport Hotel Inc. breakfast & taxes.
All airport transfers by a private vehicle.
All the admissions for the sightseeing stated in the program.
Service of an Egyptologist guide on private tours.
Camel ride at the Pyramids.
Visit to King Tutankhamen Tomb & Ramses the 6.
Legendry sunset felucca ride.
Unlimited bottled water during all tours.
3 Lunches at authentic local restaurants.
Welcome dinner at authentic local restaurant.
Domestic Flights Cairo – Luxor / Aswan – Cairo on economy class.
Gratuities for the representatives, drivers and cruise.
What is NOT included in the tour?
International flights to Egypt.
Visitor Visa upon arrival ($25 USD CASH required).
Other meals or drinks will be charged as per consumption directly.
Gratuities for the Egyptologist guide.
Scheduled Tours for 2023
April 1, 2023 thru April 9, 2023 Available for Booking
April 15, 2023 thru April 23, 2023 Available for Booking
October 7, 2023 thru October 15, 2023 Available for Booking
Oct 29, 2022 thru Nov 7, 2022 Available for Booking
Tour Cost is $3,600 USD (based on double occupancy)
Tour Cost is $4,800 USD (based on single occupancy)